Where do you keep your art supplies? Neatly packed up on a shelf? Tucked away in a closet? Or are the in front of you everyday where you can reach for them? If you want to get benefit of something – art supplies or any other thing – you need to keep it where you can see it, access it easily, and use it whenever the urge strikes.
My jars of pens and pencils are not especially fancy – mostly things I can buy in the local stationers and supermarkets. There are no real art supply stores in the town where I live; the closest one is more than an hour's drive away. So my pens and pencils are cheap and cheerful.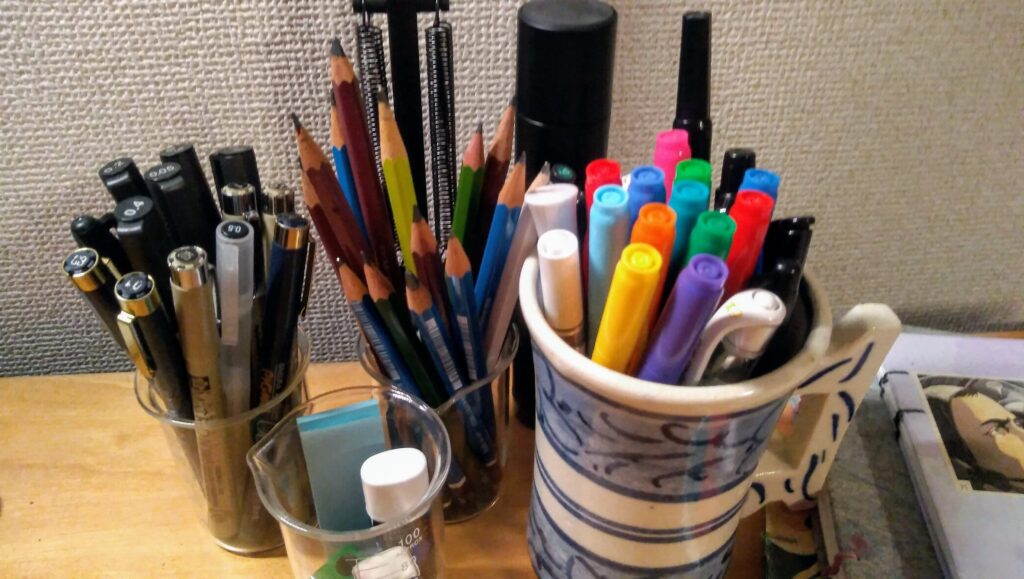 What do I use daily? I have been drawing with disposable technical pens since I ruined a really nice Rapidograph set by not cleaning it. I have a cup of pencils in various states of use. And my go-to colored pens: double-tipped Tombow Playcolors that we include in the Drawing Meditations kits. These are great for making notes as well as for sketching.
When you are on Zoom with me, you'll get a peek into the studio where I have jars of colored pencils, watercolor pencils, and a shelves of sketchbooks and canvases.
What I use daily is what is at arm's length. If I move the jar of watercolor pencils over here to my desk, they get used until I put them back. I am a creature of lazy habit. What is in front of me gets attention.
What about you? What creative tools and art supplies do you keep at hand?